Punika Pool Villa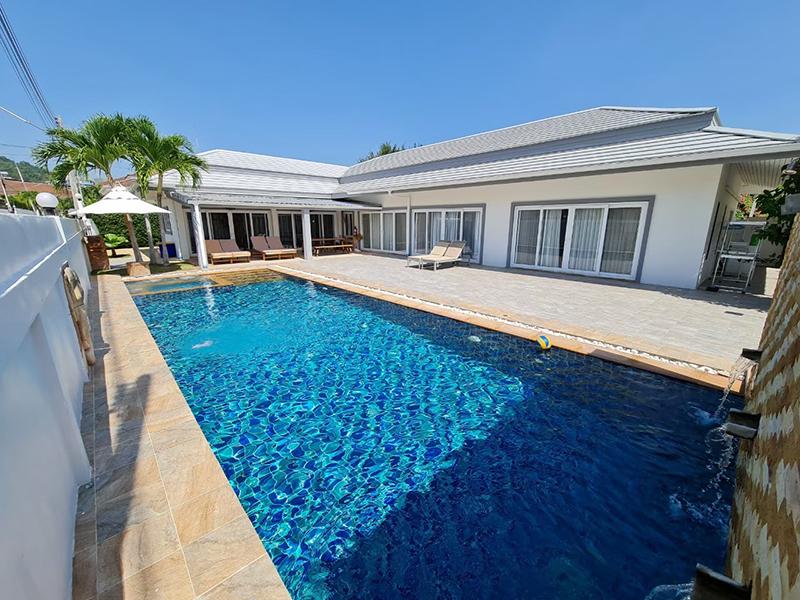 Punika Pool Villa
Punika Pool Villa, a modern party pool villa, is located in Avenue Hua Hin 88 villa project, close to Hua Hin Provincial Court. The privacy is easily accessible from major attractions e.g. Hin Lek Fai mountain 2 kms, Hua Hin Railway Station 3 kms and Hua Hin Beach 3.5 kms.
Punika Pool Villa is a private pool villa with waterfall, pool size of 4x10 metres. We provide 4 bedrooms, 4 bathrooms, a fully fitted European kitchen, a spacious living area and in-house parking lot for 2 cars. Free WiFi is available in the entire area.
All bedrooms are well equipped with private air-conditioners. Master bedroom offers 1 king-sized double bed, en-suit bathroom with luxury jacuzzi bathtub, two rain showers, dressing desk and wardrobe. The 2nd and 3rd rooms have 6-ft double beds and en-suit bathroom. The 4th bedroom is built next to living room, suitable for young children, offering one 2 units of 3.5-ft beds (twin bed). 2 sofas are provided in the living area, adatable for 2 sleeping beds . This villa is capable of occupying for up to 12-16 persons.
Amenities consits of microwave, large flat-screen smart TV, kitchenware, built-in BBQ stove, refrigerators, electric kitten, rice cooker, hair dryer, electric iron, etc. Washing and laundry machines are offered for free of charge for weekly rental guests only.
TVs are digital Samsung 32" equipped in the 2nd and 3rd bedroom. A 55" curved Smart TV is hanged on the wall in the living room, equipped with Karaoke (by Youtube), Bluray DVD player together with home theatre sound system. The other 32" TV is set with a DVD player in the fourth bedroom.
Snooker table and accessories are provided in the living room for free of charge.